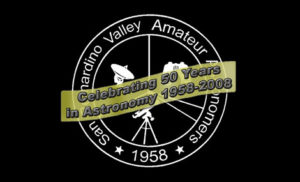 2008 marked the San Bernardino Valley Amateur Astronomers' 50th year as an astronomy club in the Inland Empire. The exact origins of the San Bernardino Valley Amateur Astronomers are lost in the ripples of time. Since its founding in 1958, the mission of SBVAA has been to provide a place for local astronomers to meet and share their enjoyment and enthusiasm of astronomy with like-minded individuals. SBVAA is dedicated to fostering astronomy education to the local community through our meetings, outreaches and star parties.
One of the founders of SBVAA was George F. Beattie, professor of mathematics and astronomy at San Bernardino Valley College for over thirty year. Mr. Beattie was instrumental in the forming and organizing of our group. Many times he would have viewing events at his ranch in East Highland. He served as president and club board member until his death in 1972. The Valley College planetarium is named after Professor Beattie. Club meetings took place at the San Bernardino Valley College either at the planetarium or the observatory until 2001 when the club meetings moved to their current home at the San Bernardino County Museum. SBVAA puts on many outreaches at the museum and their facilities like the Redlands Asistencia.
The club's newsletter, The Observer, has gone through many changes through out the years. Unfortunately, we do not have any copies of our early newsletters. There are copies of all the "modern" editions dating back to 1995 when it was revamped. In 2005, PDF version of The Observer were first made available. An ambitious project, not yet started, will be make the older edition available online.
The club's website (a.k.a Quasar) was first made available in 1999. It has gone through many change which can be seen at A Brief History of Quasar page.
Other organizations they shared our 50th anniversary year:
Last Updated on January 18, 2019